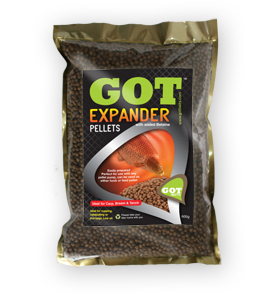 In-Focus GOT Expander Pellet
We doubt you'll find a better Expander Pellet on the market. We've built our reputation around the quality of our products and the Expander is the Flagship in our Catalogue


GOT Baits 'Hooker & Feed Pellet' comes in bags weighing 600g. At most venues this is enough for at least 3 or 4 sessions. GOT Baits pellets are available at most good tackle shops. If your tackle shop does not stock GOT Baits you could ask them to do so or mail order via online shops - some can be found on our pages.


Perfect Pellet Preparation:

The Pellet Pump

Place a few handfuls of pellet in plenty of water inside the base of your pellet pump. The amount of pellet you prepare in this way depends on how much you need and the capacity of your pellet pump. Again, good pellet pumps are available at most good tackle shops. For an added boost you can add a flavour to the water prior to pumping.

Get Pumping!

The pellet pump will remove the the trapped air from within the pellets and the expander pellet will immediately sink. Again, depending on how good or bad your pellet pump is, the pumping doesn't take long and is best done on the bank prior to fishing. Any added flavour will be drawn deep into the pellet.

Perfect Pellet every time!

Once all of the pellets have sunk they can be placed in a bait box or water tight container for use as and when needed. Make sure that the pellets remain submerged to ensure that will continue to sink and all times. Simple.

Ready to Fish?

Remember, expander pellets are as good on the hook as they are to feed. GOT Expanders keep their shape better than any other pellet we have used. What Carp, Tench or Bream could resist such a superior bait?