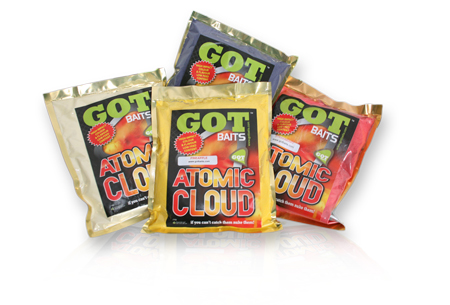 GOT Baits Atomic Cloud.
This product has been with GOT Baits for over three years, and in that time has secured a following, that ranges from the angler who goes every now and then, to the angler that competes at the highest level, and as its reputation grows so does its following.
Since its launch we have changed the base ingredient to one which is not only pure but very consistent.
We have also changed the way in which we produce and blend the product, the end result is a finished product that , in our opinion is 100% better than the original Atomic cloud , this has been achieved through hard work, but also listening to the feed back from you our customers.
This bait is one that has evolved as we have discovered more about its capabilities as time has gone on, infect the very first Atomics whilst good, are not a shade on the product we produce today.
GOT Baits Atomic Cloud
is a bait additive which has many uses, some being the following:
Can be mixed in to any paste to change not only the flavour but the colour and texture
Added to Groundbaits to change flavour colour and consistency
Added to dry pellet
Added to damp pellet
Added to Meat/corn to flavour and colour
GOT Baits Atomic Worm
has become a must have additive 'no matter what' for the choppie fans and a brilliant addition the the canal angers armory. Atomic Worms provides a predatory purple haze, and during field trials the Atomic Worms was proven to draw both big fish and tiny fry when combined with traditional winter canal groundbaits in 60/40 mix. The attraction of the fry is crucial in achieving big bags of Winter Perch that just can't help joining in!
The uses for Atomic cloud are endless and the reason many wont go fishing without a bag or two in the bait bag.


Atomic Cloud Flavours

Strawberry (Red)
Pineapple (Yellow)
Sweet Corn (Yellow)
Halibut (Green)
Cat meat (Brown)
Punch (White)
Worm (Purple)
Aniseed (Black)